Sent in 2-3 business days Extensive image bank with Quotes, Colors & Prints

Creating a Photo Wall in your Staircase: Practical Tips & Inspiring Example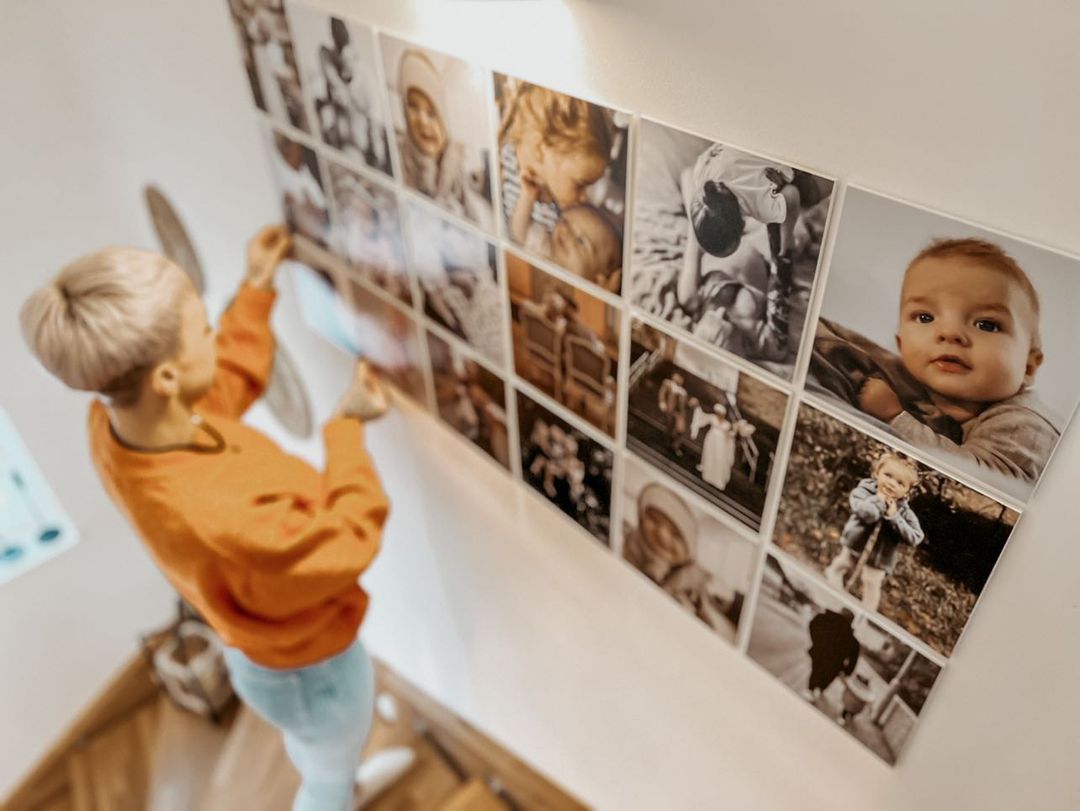 Start at the Brightest Point of your Staircase
When crafting a photo wall in your staircase, it's crucial to consider the natural lighting. Make sure to start your photo wall at the point where the most natural light enters. This might be at the bottom, near the front door, or even at the top (if the staircase ascends to an attic). Proper lighting will enhance the photos and render this typically small space brighter and more spacious. 
When it comes to decoration, a home's staircase is often a forgotten space. But with the right elements, you can create a unique atmosphere. Introducing a photo wall throughout the staircase, for instance, gives off an original and personal touch. This article will give you practical advice and inspirational examples so that you can transform your staircase into a captivating work of art in no time at all!
Combine Multiple Objects for a Playful Ensemble
A staircase photo wall gives you a chance to be creative by mixing different objects together. In addition to photos, you can incorporate other decorative elements onto your photo wall. Mirrors, paintings, a section of Eijffinger wallpaper, or posters are all viable options. Experiment with varying shapes and sizes to form a playful ensemble that turns heads!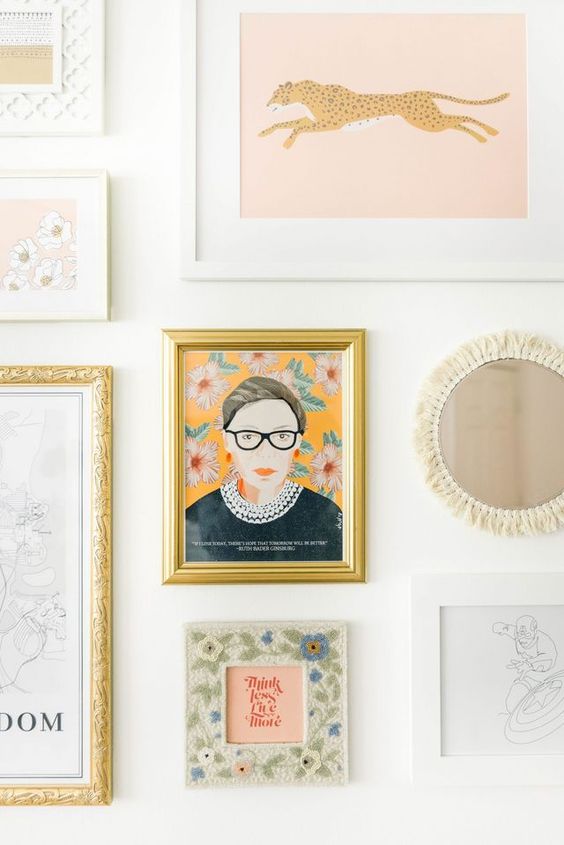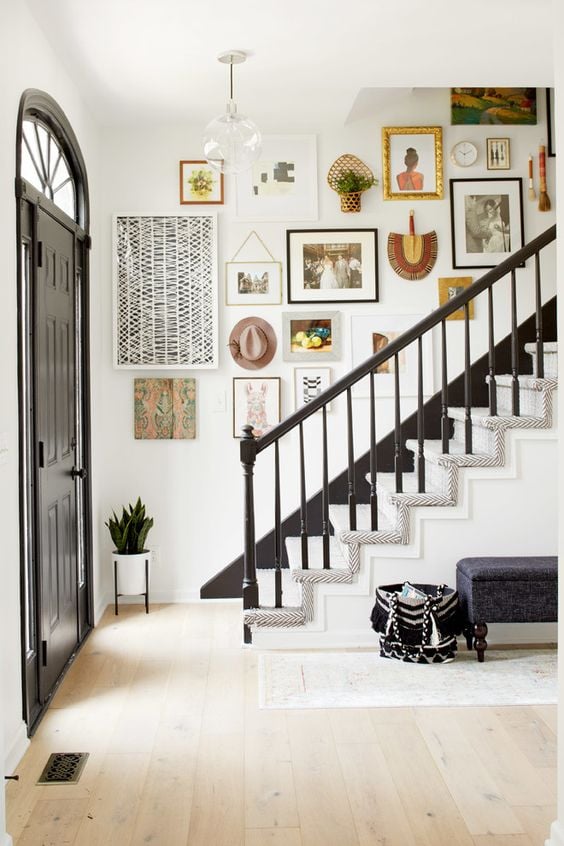 How to Hang Your Photo Wall Straight in the Staircase
Creating an inclined photo wall can be somewhat challenging. Follow these practical suggestions to ensure that your wall decor hangs evenly: 
Measurement is Key 
Choose exactly where you want your wall decor to be along the staircase. Then, measure the desired height of where you want to hang your photos. One way to do this is to measure vertically from the step and mark the appropriate point. Then, stand upright on the staircase to assess the marking. Don't forget to factor in the handrail's height and the total length of the staircase as well. 
Determine your Ideal Composition 
Just like any room in your charming abode, the options are endless when decorating your staircase. You could decide between a neat, organized row of photos or go for something a bit more out of the box. Later in this article, you'll see some original examples to give you some inspiration. To achieve the perfect framework, lay out the photos you intend to use on the floor. Adjust their positions until they're exactly where you want them. Then, snap a photograph of the arrangement! This will streamline the process when it's time to reproduce your design on the wall. 
Create a Test Wall 
Once you've created a composition you're happy with, it's time to attach templates (or paper cutouts) to the wall. The cutouts should be the same dimensions as your photos, so that you can understand what the structure will look like before making a final decision. Did you know that our studio allows you to perfectly envision what your decor will look like on your wall?  
Utilise a Hanging System 
Not every situation requires drilling holes! Consider utilising pre-installed hooks or adhesive hanging strips. With each order from Modulari, you'll receive a complimentary self-adhesive magnetic hanging system and convenient spacers. This facilitates a straightforward hanging process and swapping photos without drilling.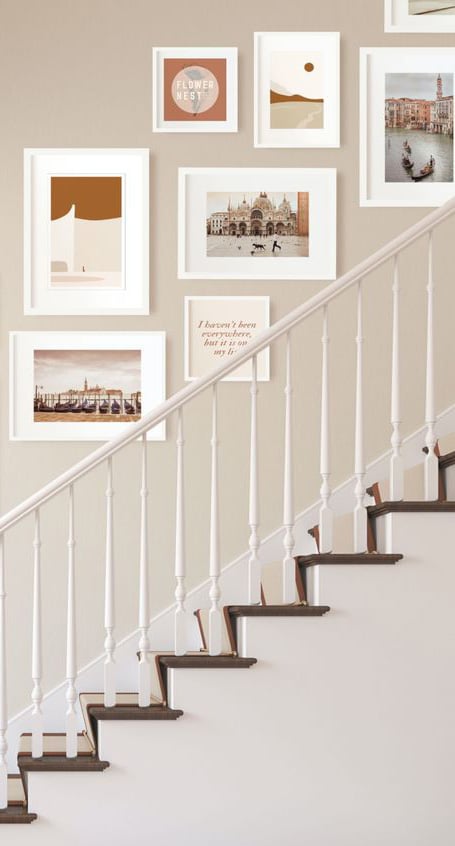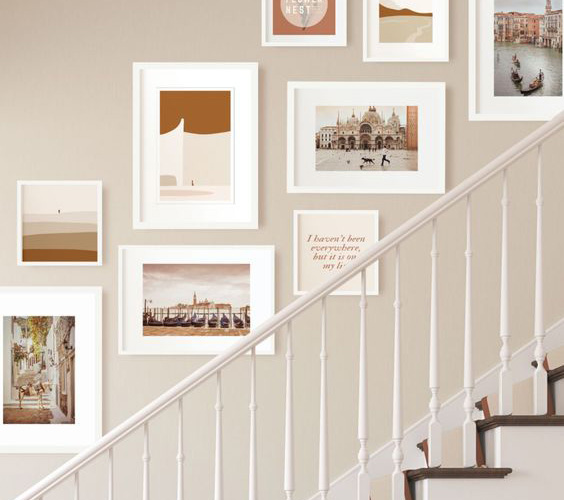 Three Original Ideas for a Staircase Photo Wall
Designs that "Grow Up" With You 
A staircase photo wall is a great way to tell your story. Why not assemble photos of yourself, your partner, your children, or other family members from different years of your life? This creates a visual timeline of your family. You could even include photos from your childhood at the bottom of the staircase and progress towards present-day photos at the top.  
Transitioning from Light to Dark  
Play with the gradient of colours and select photos that encompass varying levels of colour intensity. Start with the lightest photos at the bottom of the staircase and progress to the darkest photos at the top of the staircase. Our image bank has over 80 distinct colours that can be woven into your design, resulting in an innovative effect. 
From the Past to the Present  
Create a visual timeline by incorporating old photos into your photo wall. Some ways to do this include collecting vintage family photos or historical images of your area, or adding photos from all the countries in which you've resided. Start with your oldest photos at the bottom of the staircase and gradually work towards the most recent photos at the top of the staircase. And don't forget to save space for all the happy moments awaiting in your future!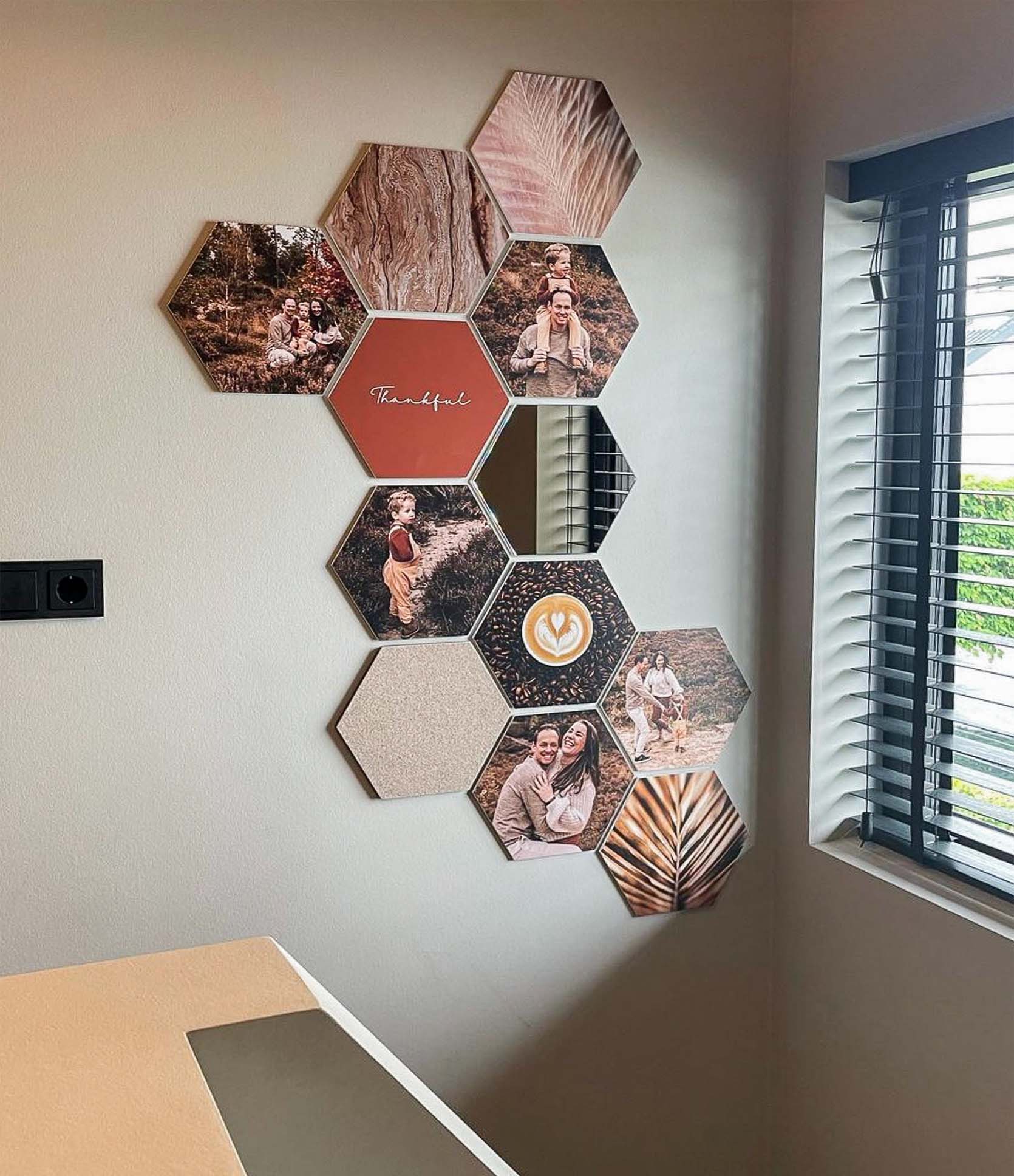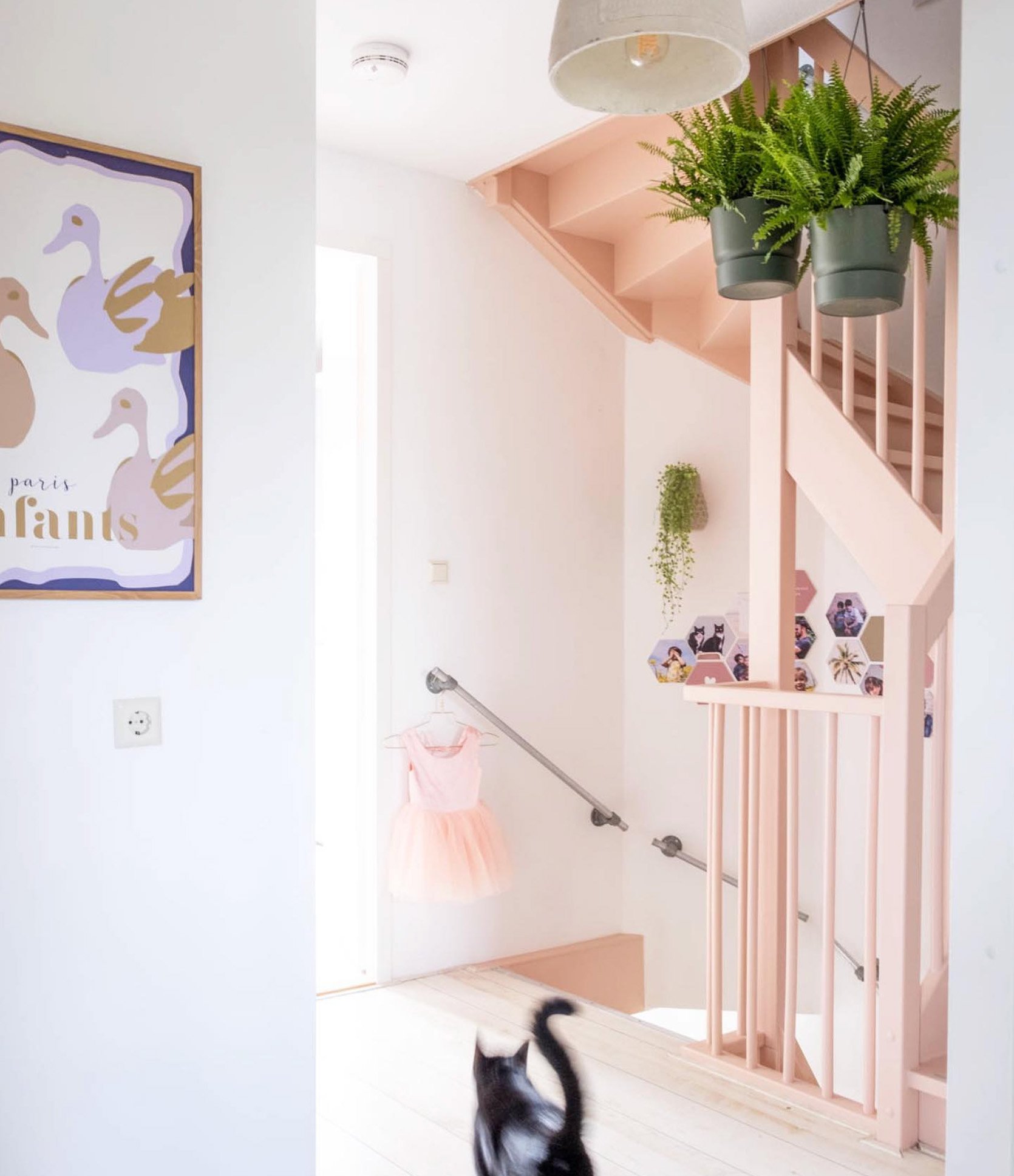 Elevating Your Staircase
Embrace Illumination
Think about installing subtle lighting along the staircase. This not only promotes a cosy ambiance, but it serves a practical purpose, too! 
Infuse Greenery
Bring the outdoors indoors by incorporating plants into the staircase area. You can position them in stairwell corners or opt for hanging plants or vertical gardens. 
Unleash Artistic Flair
Let your imagination run wild by creating a mural. You can include dazzling wallpaper on one of the walls, or let an inspiring quote take centre stage. These are just a few ways to make a bold statement!  
Amplify your Space with Mirrors
Place mirrors on your wall to purposefully create an illusion of space and brightness in the staircase. You can also play with mirrors of differing hues. For instance, at Modulari, you can select from bronze, silver, and smoked options. Our Design Tool enables you to visualise how your design will come to life. Mirrors not only reflect light, but also evoke a sense of depth and expansiveness. 
With all of this in mind, you can quickly revamp your staircase into a focal point of your home.