Sent in 2-3 business days Extensive image bank with Quotes, Colors & Prints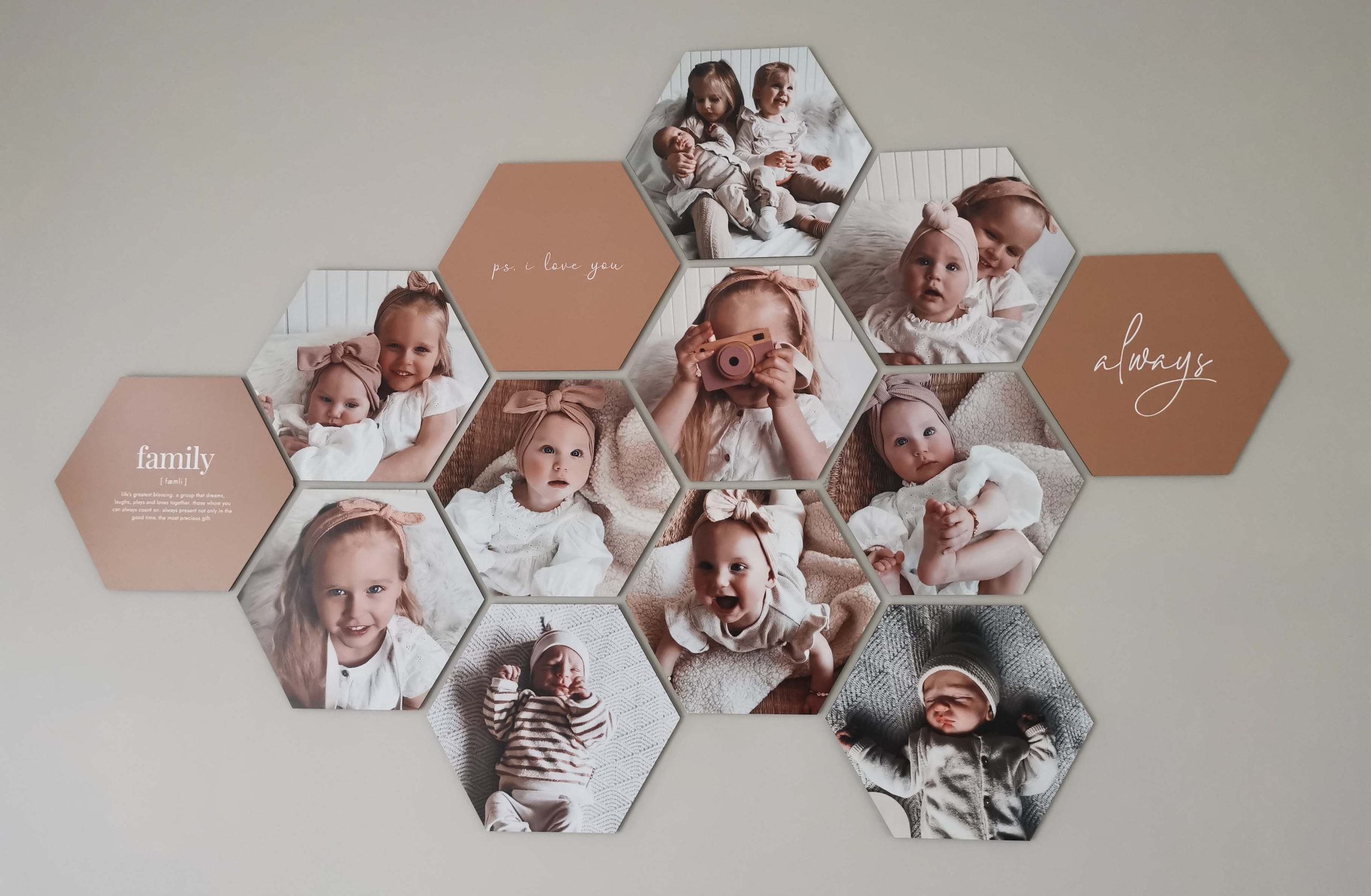 Something unique for your wall: 5 examples, tips, and inspiration
Is that empty wall in your living room staring right at you? Have you just moved in and find yourself looking at blank walls? No matter where you are in your interior design journey, choosing a suitable wall decoration can be quite tricky...especially when you want something unique. In this article, we'll give you five original tips that will have you hanging a real eye-catcher on your wall in no time at all.
Wall decorations for the whole family
Designing your own wall decoration means that you can truly go in any direction: from sleek and stylish to playful and atmospheric. Let your creativity run wild and transform that bare wall into a striking, cohesive masterpiece.
How about creating a design that the whole family can enjoy? One way to do this is to incorporate the letters of your child's name onto your photo wall. But why stop there? You could even include the entire alphabet! Perhaps you'd like to create a tactile effect by working with different textures like felt, cork, and plush.
If you've got a sleek and modern interior, why not include a sentimental photo tile with the coordinates of the place where you met your other half? This would give you something unique with a subtle touch of mystery, turning your photo wall into a uniquely personal story.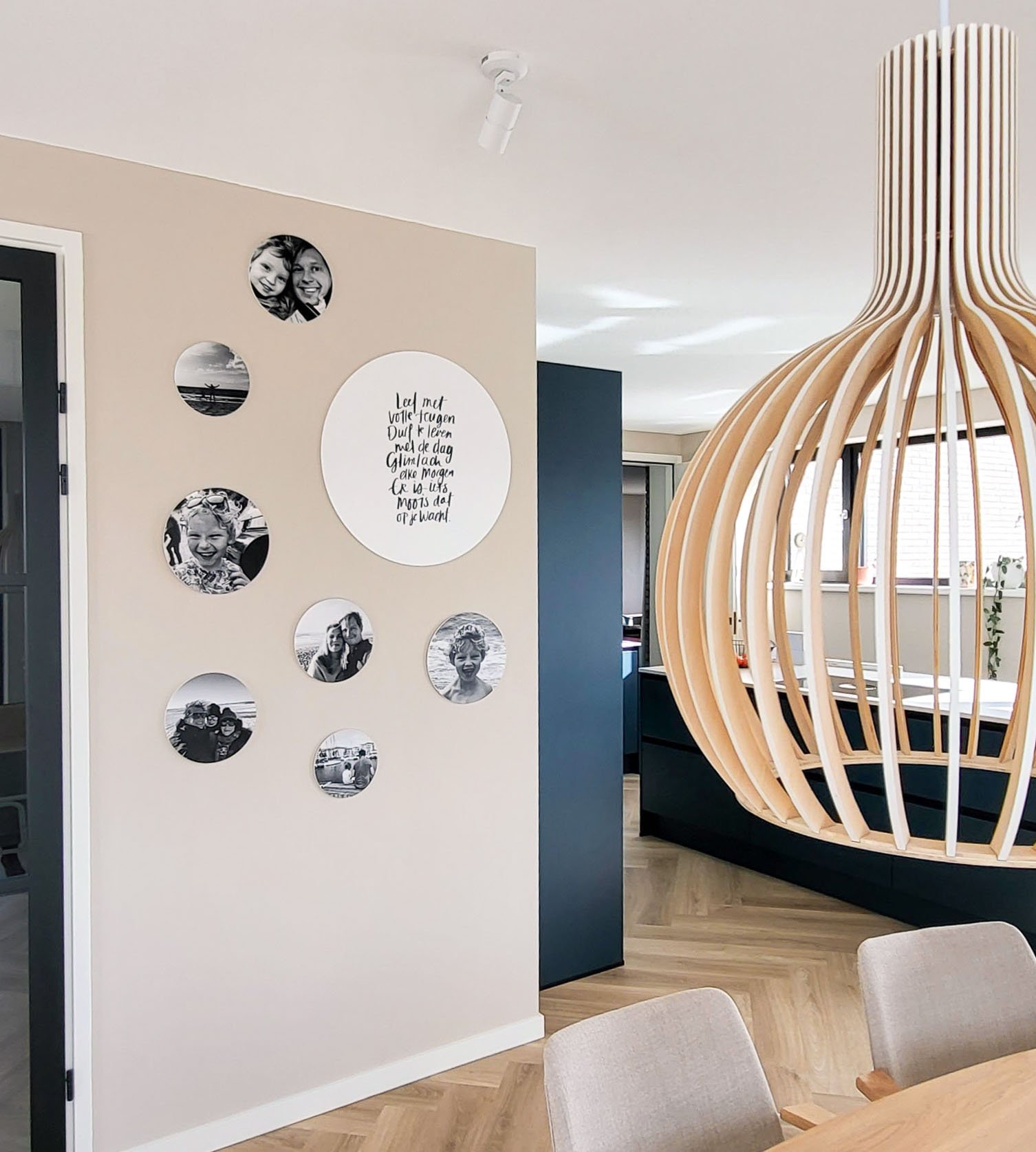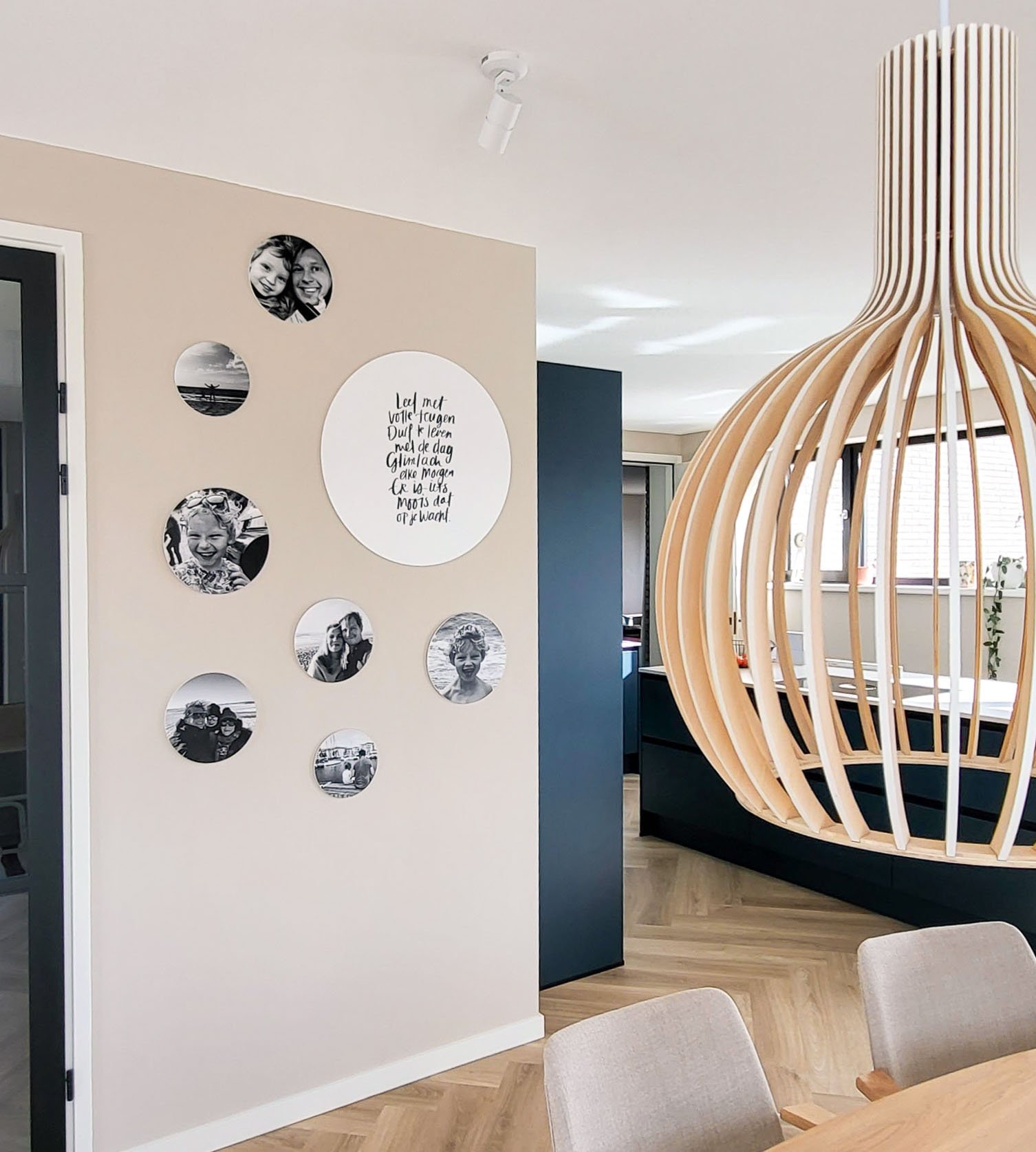 A zoo in your living room
Your wall decoration can include so much more than a simple painting or a few of your favorite photos. Showcase what inspires you by including your favorite hobbies, passions, or animals into your design. Go for a delicate effect with soft drawings by Marie Bodie, or make a statement by filling your photo wall with animals and palm trees for a true "jungle effect"! 
Decorate your wall with pieces of wallpaper
Wallpaper pasted in long strips on your wall? That's a thing of the past! These days, wallpaper can be so much more. At Modulari, you'll find unique hexagon tiles with authentic Eijffinger wallpaper that you can easily add into your wall decoration.
Eijffinger has been a leader in distinctive wallpaper designs for over 145 years. Feel the textures and allow the subtle sheen of these special tiles to shine in your room. With five different designs, there will always be an Eijffinger wallpaper that fits in with your photo collage. Options range from black, velvety crocodile prints to a delicate glitter leaf design. The choice is yours. 
playing with mirrors
By hanging a mirror in the right place, you can easily transform a small or dark space into a large, bright space. The reflections create an optical illusion, making your living room or bedroom suddenly appear much larger. Incorporating multiple mirrors into your design and letting the wall decoration start from the floor can create a playful effect for your child--while also making the floor seem infinite! Did you know that playing with mirrors is a good way to stimulate your child's self-awareness? 
If you'd prefer to hang your mirror tiles a bit higher, place an accessory in the front to enhance the mirror's effect. The reflection in the glass will emphasize the sense of depth even more. At Modulari, you have the choice of three different mirror shapes: hexagon, square, or circle. 

Natural and creative 
Bring the outdoors inside with natural elements. Our cork tiles can add an original twist to your design, and it's a perfect way to change things up each day! Pin your child's beautiful drawing on the wall or hang that sweet note from your partner to keep those beautiful moments alive.
Even when it's bare, cork is the perfect material to give a natural look to your design. Hanging something unique on the wall has never been so simple!